Giuseppe Bocchi
Titoli dell'autore
L'omologia ape-ninfa per l'interpretazione della Fabula Aristaei
digital
The aim of this paper is to provide some new elements to understand why in Vergil's Fabula Aristaei (Georg. IV 315-558) we are told the never before coupled myths of Aristaeus and Orpheus, which have the task to explain the aition of bougonia. One key element could be the ancient mythical (i.e. Greek) and linguistic (i.e. Aeagean-Canaanite) homology by which we are shown that the *bee and the *nymph were paired, actually being the same creature (νύμφη-μέλισσα = the honey-making bee) that only later split into two different features...
Lucano e la sintesi di Virgilio: proposte di riflessione
digital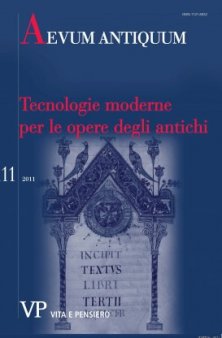 ...
An exspectas ut Quintilianus ametur? (Iuv. 6, 75): antiesemplarità del teatro in ottica satirica
digital
Giovenale, in alcuni luoghi delle Satire, riflette sulla degenerazione dell'evento teatrale a Roma: esso non è più momento di riconoscimento collettivo nei valori fondanti dello Stato, ma spettacolo con atti e movenze al limite della decenza che stimolano le pulsioni più ignobili del pubblico, in particolare delle spettatrici. Gli autori di teatro, non più sostenuti da generosi mecenati, sono costretti a comporre opere di basso livello e grande successo presso il pubblico più rozzo per sopravvivere alla fame. Il popolo vede andare sul palco anche i nobili, i quali perdono la propria dignità e diventano attori di deprimenti farse, portando a compimento una pessima tradizione inaugurata da Nerone in persona.