Vita e Pensiero
Polemical Allusion to Lucretius in Tibullus
digital
The basic argument in this paper is twofold: first, that Lucretius serves as an important target of allusion in Tibullan elegy; second, that through allusions to the De Rerum Natura Tibullus affirms the validity of the elegiac view of love over Lucretius' Epicurean perspective. Tibullus' allusions to Lucretius are primarily polemical. On the one hand, Lucretius represented for Tibullus the first hexameter Latin poet who wrote extensively about the human experience of love...
Roleplay and Wordplay in Tibullus: the Reverberation of Horatian Iambic
digital
Tibullus' sixteen canonical poems owe a debt to Horace's invective Epodes, sixteen of which are in metres that feature alternating lines. Play and playfulness, in particular proleplay and wordplay, typify the creative dialogue between these poetry collections...
Before Ibis: Invective Elegy in Tibullus
digital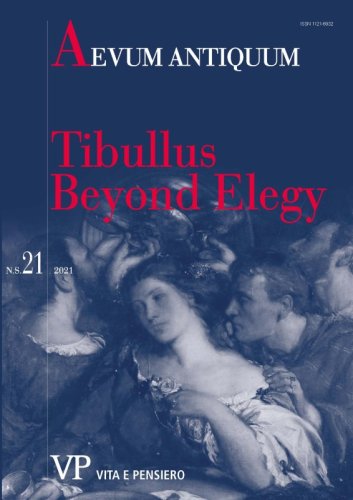 This paper argues that Tibullus's elegies provide a key precedent for the anomalous combination of invective subject matter and elegiac meter found in Ovid's Ibis. Tibullus innovated within elegy by incorporating magical and invective elements not native to the genre, which he integrated through a strategy of self-presentation as a prophet figure...
Inter Tibullos: Name-Checking Tibullus in Renaissance Latin Poetry
digital
Twentieth-century neglect of Tibullus is offset by the prominent position accorded to the elegist in earlier literary catalogues of elegiac, amatory and other poets. Latin authors of the Renaissance are enthusiastic in their praise of Tibullus, often employing terminology borrowed from or modelled on expressions in ancient literary criticism, and engagement with Tibullus' own texts can likewise be used to convey appreciation of the poet's literary stature...
La storia, l'encomio, il caos. Per la ricezione del discorso di Giano (Ov. fast. I 63-288) nella poesia imperiale
digital
This paper focuses on Janus' speech in Ov. fast. I 63-288 as a model for Lucan's Book I (vv. 60 ff., the causes of the civil war) and for Statius' silv. IV 1 (the panegyric for Domitian, consul for the seventeenth time)...
«Non è una città per vecchi». Per una rilettura del Sexagessis di Varrone
digital
This article focuses on Varro's Sexagessis and offers an interpretation of the Satire in a socio-political direction, with the purpose of enlightening the formidable portrait of the Late Roman Republic offered by the fragments...
Ulysses Philosophus: a plausible reading?
digital
The purpose of this paper is to shed light on some philosophical reappraisals of Ulysses. After a brief general introduction (I), I focus on Plato's Ulysses, whom I consider as the symbol of "demotic virtue" (II)...
Hermes at night. On Hermes ἐΰσκοπος and Agni sudárśa-*, viṣpáś-
digital
In the Homeric Hymn to Hermes, Hermes is associated with (a) the night(time) and (b) the characteristic of good eyesight. I argue that the Greek god shares these characteristics with the Vedic fire-god Agni.
Augustine Confessions VIII 8, 19 and Horace
digital
In Confessions VIII 8, 19 Augustine draws upon an expression in one of Horace's epistles. The borrowing is significant in that both writers are urging that spiritual well-being cannot be reached by physical means.
L'epigramma di Antipatro per Erinna (Ep. 58 HE = T8 Neri = AP VII 713)
digital
The paper deals with a well-known epigram by Antipatros of Sidones on the poetess Erinna. I offer a re-evaluation of its contents and a new translation.
La gigantomachia delle statue: motivi gigantomachici nel Panegirico di Plinio il Giovane
digital
The myth of gigantomachy has long been read as a political myth, i.e. the fight of the subversive Giants against the established order, and in Flavian era it was used by poets to legitimate the power of the Flavians, who had successfully defeated the Giants/Vitellians in the fight of 69 CE on the Capitol hill...
AEVUM ANTIQUUM - 2020 - 20
digital
Fascicolo annuale del 2020